Armada Targets are powerful opponents that can be found in Level 20+ star systems across Federation, Klingon, Romulan and neutral space.
Armada Targets can only be attacked by Armadas – they are too strong to be defeated with normal attacks
Due to their size and power, Armada Targets are not affected by the following research bonuses and abilities:
An Armada control center is needed to unlock the Armadas feature and lead your own Armada. Available at Ops level 23.
Armada Credits are earned by defeating Armada Hostiles and can be used to purchase rewards in the Alliance Store.
Armada Directives are used to start Armadas. Players can get more from the Alliance Store, by completing Daily Goal milestones, and by upgrading the Armada Control Center.
Armada Tactical Cores are specialized command, control, and communication systems used to upgrade the Armada Control Center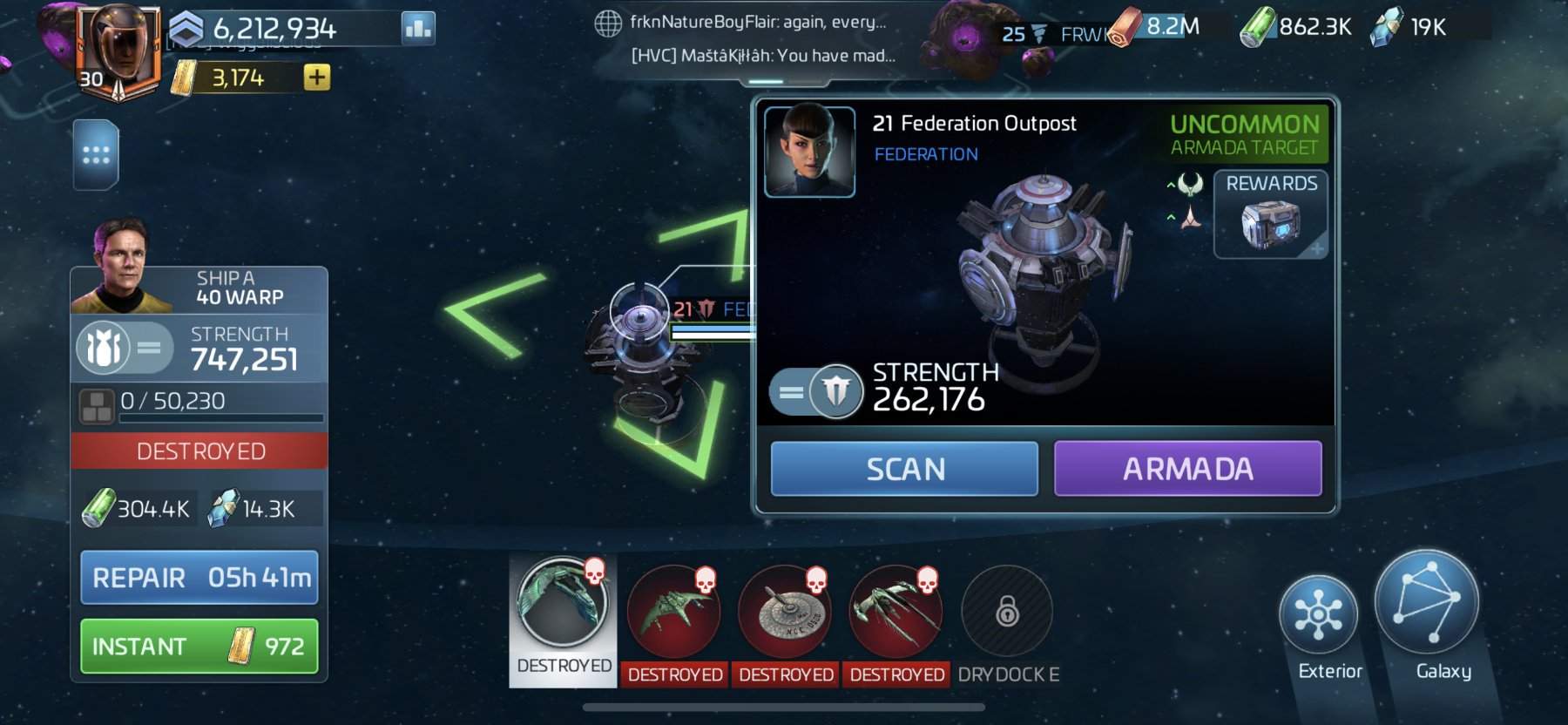 Federation Armada Locations
Uncommon Federation Armada Locations
Rare Federation Armada Locations
Epic Federation Armada Locations
Romulan Armada Locations
Uncommon Romulan Armada Locations
Klingon Armada Locations
Uncommon Klingon Armada Locations
Borg Solo Armada Locations
To improve your odds do the following research. Go to research tree > Combat research > Federation Translink Disrupter, Klingon Translink Disrupter, Romulan Translink Disrupter > Jellyfish Translink Disrupter.
Atraxi
Megnomis
Petoran
Efros
Torovin
Thora-Beta-6
Thora-Omega-2
Orin-Theta-12
Orin-Sigma-9
Borg Solo Armada Strategies Video
Taking down Borg Spheres in Star Trek Fleet Command | by Rev Deuce
How do you start an Armada?
To start an Armada attack, you need the Armada Control Center building in your station. Starting at level 23, this building can be unlocked through research called 'Unlock Armada Control Center' in the Station research tree.
This research uses a new resource, Armada Tactical Cores.
How do you join an Armada?
In order to take part in the Armada attack, you and each member of your Alliance who wants to participate need to:
Join the Armada and
Have a ship idle within the zone when the attack takes place and the countdown expires (15 minutes after you start the Armada attack).
The maximum number of ships that can take part in the Armada attack ranges from 2-6 and is determined by the building level of the leader's Armada Control Center (the Armada leader's ship also counts toward the max).
You can join multiple Armadas with your ships, but only your strongest ship in each Armada will take part. (You can consider any extra ships as a backup in case your main ship gets taken out by another player).
The ships that will be taking part in the battle will have a purple glow around them in the system.